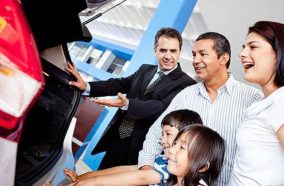 When Does Buying an Extended Auto Warranty Make Sense?
When purchasing a car, consumers are faced with all kinds of decisions. Buying or forgoing an extended auto warranty is one of those decisions. As with many other options offered by auto dealers, car owners have a tough time deciding whether they should purchase the extended warranty or not, mostly because it is an investment that they cannot be sure will pay dividends right away or even further down the road.
An extended auto warranty is basically a service contract that dealerships offer to car buyers, intended to cover repair costs for a given period of time after the manufacturer's warranty on the car expires. It can be bought for both new and used cars, and is not included in a car's purchase price. In addition to being available from dealerships, extended auto warranties also are sold by third-party providers.
Types of Extended Auto Warranties
There are three primary types of extended auto warranties, covering repairs of different vehicle components.
One of the most commonly purchased plans is called "stated component coverage," also referred to as "inclusionary" coverage. If you opt for this contract, you get to choose which components you want to have covered by the extended auto warranty, and the contract will include only those components.
"Powertrain" coverage, as the name implies, covers a vehicle's powertrain, and all of its components, which will include protection for the engine, transmission, and drivetrain.
Finally, there is the "bumper-to-bumper" plan, which is sometimes also referred to as "exclusionary" coverage. It covers many components, allowing you to choose which parts you don't want to be covered, and it lists only those exclusions in the contract.
In most cases, it can be said that extended auto warranties are relatively expensive. On the other hand, the potential benefits an extended auto warranty can provide must not be overlooked, which is why many car owners are on the fence about buying such coverage. To help you decide whether an extended auto warranty is an option that fits your needs, here is a closer look at both the upsides and the downsides.
The Benefits: Flexibility and Monetary Savings
Arguably, the biggest upside of purchasing an extended auto warranty is the fact that it gives you great flexibility in choosing which components you want it to cover, thus allowing you to opt for a plan that will fit your budget. This means that you could choose a plan that only covers the parts of your car that you believe are most likely to break down, wear out, or sustain significant damage and need to be repaired or replaced more frequently, or parts whose repairs or replacement cost the most.
For example, you can opt for a warranty that only covers repairs to your car's powertrain. This is often thought a very good option, considering that engine repairs and replacement are extremely expensive and, if your engine breaks down after the original manufacturer's warranty expires, your extended warranty would cover the costs, while saving you a lot of money in the process.
Another advantage of having an extended auto warranty is that it gives you much-needed peace of mind when it comes to repairs after the manufacturer's warranty expires. Having to pay for unexpected expensive repairs out-of-pocket can wreak havoc on your monthly budget, your household's spending plans, and any other type of financial obligations. If you purchase an extended auto warranty, you won't have to worry about finding the money to pay for a costly repair the moment the need arises, since the costs will be covered by the warranty.
The Risks: Expensive Bets That Are Not Always Won
For all the convenience and the potential to save money in the long run that come with it, an extended auto warranty also has its drawbacks. The drawback that is probably most noteworthy is the fact that it is essentially an expensive investment that offers no guarantees that it will ever pay off.
Surveys show that, on average, car owners pay over $1,200 for an extended auto warranty, which is a significant amount of money by any standard. Taking into consideration that no one can predict if or when a certain part of your car will have to be repaired or replaced — and what exactly it will cost — it is safe to say that, by buying an extended auto warranty, you are essentially placing a bet, without knowing whether it will be a winner some time in the future.
The Variables: Length of Ownership and Reliability
As with all significant financial decisions, the decision whether to purchase an extended auto warranty should be made only after careful consideration of the upsides and downsides.
One of the factors that you should consider is how long you intend to keep the car. In general, extended auto warranties make sense for those who plan on keeping their car for a longer period of time, meaning at least four years or more. This is because you will only be able to access the extended coverage after the original manufacturer's warranty has expired, most of which expire three years after the car is purchased.
If you intend to sell your car within the first three years of purchase, or within whatever period is covered by the original manufacturer's warranty, then you won't get a chance to use the extra coverage. But, if you have no intention of selling your car that soon, an extended warranty can go a long way toward giving you peace of mind and helping you save hundreds of dollars when a more substantial repair or replacement is required — and chances are that it will happen at some point.
Another factor to consider is the reliability of the car you are buying. If the car in question has high reliability ratings and the odds of its experiencing a major breakdown that would require costly repairs are low, then you may choose to forgo the extended warranty.
On the other hand, if you find that the car you are buying is expected to require frequent repairs based on the model's reliability record, you might be wise to purchase the extended warranty, choosing a customized plan that would take into account both your financial priorities and the other factors explained above.
The Bottom Line
The bottom line is that it is up to you to decide if an extended auto warranty is something that you need or want. All things considered, if you buy an extended auto warranty at the time you purchase a new or used car, or before the car's original warranty expires, it may help put your mind at ease, knowing that you're covered in the event of unexpected and costly car repairs.
However, whether or not the expense is justified will rely upon events that are not necessarily under your control. The more reliable the car, and the shorter the time you will own it, the less likely you will be to reap the benefits of an extended auto warranty.
Whatever you decide, it's important to remember that extended auto warranties are not a replacement for auto insurance, which offers wide-ranging coverages, including liability, collision, medical expense, roadside assistance, and much more.
Credit: Jordan Perch, extramile.thehartford.com, October 6th, 2017
Comments
There are no comments yet.