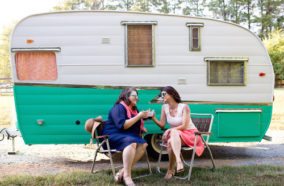 Small Business Story: Charlotte Mobile Makery
Shannon Hale and Jess Murphy recently left their jobs and started a small business together.
Was it a difficult decision?"It was the worst decision I ever made," Jess told me.OK … just kidding.

She never said that. In fact, Jess said something very different. "Best decision ever," she actually said. "Shannon and I work so well together and we're having so much fun."

The two friends, who both knew each other from working together at a local nonprofit, decided to start Charlotte Mobile Makery — a unique company that brings individual and group craft-making activities, products, and services to private events like weddings and birthdays in the Charlotte, N.C. area.

For more than two years while working for a nonprofit, they hustled, worked a lot of hours, and attracted more and more jobs to their little company. They even bought their own vintage camper which travels around, "making crafting convenient" for many would-be do-it-yourselfers, clients, and functions. The time inevitably came to cut lose from the employee life and become actual business owners, and so they did, earlier this year.

Does this sound familiar to you? It's early days for Charlotte Mobile Makery, but things are looking good. Now what about you? Are you thinking of leaving your job and starting your own company? Are you sure you're ready for the entrepreneurial life? There's no guarantee of success. And of course you need to know many things — from accounting to selling to managing people and marketing to customers.

But a few basics first: Do you have at least the initial ingredients to survive in the startup world? What are those initial ingredients? Jess and Shannon can share a few.
For Starters, Make Sure You Have Enough Capital
Of course, savings are important — do you have enough to pay the bills for the next year or so while your business gets off the ground? Does your spouse have a job? Where will your health insurance come from? Is there another source of income? If the money isn't in the bank, do you have other sources — a line of credit, a rich uncle, a potential investor?
Businesses run on cash and, like Jess and Shannon found, things take longer than expected. Make sure you've got a good cushion of Benjamins to see you through your startup times. It took them two years. It took my company about as long.
Cash Isn't the Only Capital
You'll need time. "We thought, we'll just ramp it up and then we'll hit our benchmark and then we'll quit our day jobs and it'll be full steam ahead," said Shannon. "But it's been a little bit more like two steps forward, two steps back, two steps forward."
If you're already working forty hours a week, you can expect to put in another forty hours to start up your company. Are you ready for that commitment? More importantly, are your significant other and family members ready, too? They've got to have your back through all of this or you may find your personal life imploding even as your business takes off.
Have Customers
You've got to launch with at least a head start and that head start comes from customers.
When I left my corporate job, I had a dozen or so clients paying me fees so I could at least be assured that some expenses were covered and I was off to a start. Customers not only provide cash flow but also references, education, and experience for a fledgling enterprise. Customers also prove that your "bright idea" actually serves a market and isn't some fantasy you've dreamed up.
While attracting customers, Jess and Shannon were able to "put a toe in the water" over a couple of years and test the market. When the two worked on a successful wedding last year, they had reached a tipping point. "I realized that I can help these people feel very confident and creative and that felt awesome, and I got to work with my best friend, which is fantastic," Jess said.
Be Willing to Change
Your business idea at the start may not be the most profitable road. Listen to your customers. Have an open mind. Be flexible. In other words…follow the money. If you can adjust what you're doing to better meet a market need, then you're learning a very core lesson about running a small business: Sell customers a product they want to buy!
"We've had to alter our strategy pretty regularly in order to make the business successful, and we wouldn't have the success that we have if we weren't willing to fix some things or to listen to other people's good ideas or change our minds about what we thought was important," said Shannon.
Finally, Consider a Great Partner
I started up my company with my dad, who helped me with selling and marketing. Jess and Shannon have each other to lean on — and their work habits complement each other. For example, Jess is the morning person and Shannon is the night owl. They also rely heavily on technology to collaborate with each other and their customers.
You'll find that it's a cold, hard world outside of your safe and secure corporate job. You will have many great moments and many dark times. You will need your partner to share the work, share the finances, and offer a shoulder to cry on when things are lousy. My dad passed away 10 years ago and I miss our partnership.
So yes, you can do this. You can leave your corporate job and start up your own company. But you don't have to reinvent the wheel. You can learn from successful business owners like Shannon and Jess. You can try to avoid their mistakes and emulate their successes.
And, if you're like them, and so many other entrepreneurs I know, you'll find yourself never wanting to go back and work for someone else. Besides, according to Jess, "If you don't take a risk, you never know what you're capable of."
Image c/o Charlotte Mobile Makery
by Gene Marks (Smallbiz Ahead – Hartford)
Comments
There are no comments yet.